Reading helps us acquire knowledge. But it also opens our minds to different faces of society. For example, if you have never been to New York, you can still understand that city's culture and life by reading a book about it. How? Through its characters.
Writers write to communicate, and readers can engage with it however they want. Thousand different ways are available to us to interpret a text, and that's what makes it so attractive. To someone, Harry potter can be a children's literature, and another person might just read it in their adult years too. That's the thing about books; it keeps you hooked. And it is the healthiest habit.
We have listed some books that everyone should read because every book here teaches something important. And, the cherry on the top situation, they are very well written. Let's go!
The Harry Potter series by JK Rowling
Harry Potter is a widely celebrated series of seven fantasy novels written by British author J. K. Rowling. Its plot chronicles the lives of a young wizard named Harry Potter and his friends Hermione Granger and Ron Weasley. They were shown to be the Hogwarts School of Witchcraft and Wizardry students. The concept of the novel series concerns Harry's struggle against Lord Voldemort, a dark wizard. He who must not be named is driven by the desire to achieve immortality and overthrow the Ministry of Magic – the wizard governing body. In the process, Voldemort also aims to subjugate all half-wizards and Muggles (non-magical people).
Perhaps one reason many readers keep mentioning this series is its immense popularity. And the second could be the lessons it can teach you. A few of those are: True friendship can get you through anything, Bravery comes in many forms, etc.
To know more about the takeaways from Harry Potter, read here: https://empowrclub.com/harry-potter-returntohogwarts/
Roald Dahl's books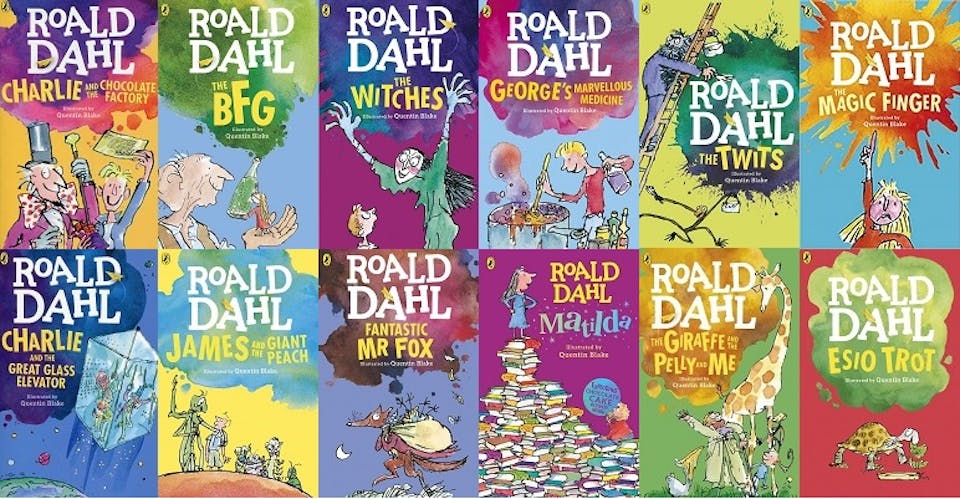 Roald Dahl was a famous British novelist, poet, screenwriter, short-story writer, and wartime fighter pilot of Norwegian descent. His writing was so that his books have sold 250 million copies or perhaps more worldwide. Dahl is referred to as one of the greatest storytellers, especially for children of the 20th century. His short stories are famous for the unexpected endings and his children's books for their unsentimental, macabre, often darkly comic mood, featuring villainous adult enemies of the child characters. His children's books champion the kindhearted and feature an underlying warm sentiment.
So please read it for the warmth and the technique. It is indeed a talent to be able to convey something crucial in children's literature so beautifully as Roald Dahl does.
Malcolm Gladwell's non-fiction book 'David and Goliath: Underdogs, Misfits, and the Art of Battling Giants
Mr. Gladwell raises questions — should David have won his fight with Goliath? — that is reassuringly clear even before they are answered. His answers are tricky enough to suggest that the reader has learned something, regardless of whether that's true. As Mr. Gladwell specifies, "David and Goliath" set out to explore two — just two — ideas. The first is greatness and beauty in David-Goliath fights, at least when the underdog wins. The second is that "we consistently get these kinds of conflicts wrong" by failing to realize that giants have weaknesses and that underdogs can accomplish the unexpected.
Rick Riordan's 'The Lightning Thief':
A line from Rick Riordan's 'The Lightning Thief' stands true today.
"It's funny how we humans can wrap our minds around things & fit them into our version of reality. Imprisoned by our black and white walls."
– Rick Riordan, The lightning thief
One of the central themes of Percy Jackson and the Olympians: The Lightning Thief is the acceptance of your identity. As per the plot, Percy struggles to reconcile with his newfound identity. He spends most of his childhood believing he is an ordinary child his father abandoned. Once Percy's mom becomes aware of the issues her son faces, she decides it's time for him to know the truth about where he came from and what would be his safe place. She sends Percy to Camp Half-Blood, a summer camp for demigods, where he learns several truths about his life and origin. Soon a mystery unfurls, and together with his friends—one a satyr and the other the demigod daughter of Athena, he sets out on a quest to reach the gates of the Underworld and prevent a destructive war between the gods.
'Refusing Heaven' by Jack Gilbert
In Refusing Heaven, Gilbert writes compellingly about the loneliness, passion, and sometimes the surprising happiness of a life spent in the luminous understanding of his numerous shortcomings and blessings.
"The days and nights wasted . . . Long hot afternoons / watching ants while the cicadas railed / in the Chinese elm about the brevity of life." – Refusing Heart, Jack Gilbert.
The flow of time slows down in this poetic collection as Gilbert brings together an aura of curiosity and wonder towards the very existence itself. Gilbert chooses in this volume to " refuse heaven " despite mighty intermittent griefs – over the women he parted from, or the one lost to cancer – Gilbert chooses in this volume to refuse heaven. He prefers this life, with its struggle, alienation, and delight, to any paradise. His work is a rebellious declaration of the call to clarity and a profound assurance of the world in all its entirety. It braces the reader in its heart and humanity.
If you are a fan of poetry, you will like this article: https://empowrclub.com/forms-of-poetry/
Books make you richer in knowledge. You become more confident, and your aura expands.
Read for thirty minutes in a day but read and see yourself improving. And if you don't want to read but still feel like knowing books, join a book club and become a part of a conversation.
Get to know Empowr Club.
Download our application to learn more about it:
Android: https://play.google.com/store/apps/details?id=com.empowrclub.app